Beast Of Damnation - Dawn Of The Beast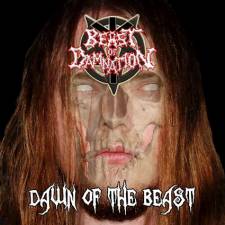 De mannen van Beast Of Damnation maken naar eigen zeggen "Real Satanic Black Metal". Voor fans van het genre klinkt dit veelbelovend. Ook zullen luisteraars die hunkeren naar een recentere en originele band (welke niet al te veel afstand neemt van hun Scandinavische voorgangers) een reden hebben om een releasedatum in hun agenda te markeren. In een moderne wereld waarin op elke hoek een kloon van Dimmu Borgir of Cradle Of Filth te vinden is, zou deze release eindelijk wat fans van de oudere en simpele black metal tevreden kunnen stellen.
Maar het zou ook mis kunnen gaan. Het zou ook kunnen zijn dat de muziek zo standaard is dat je je afvraagt waarom het album bestaat en waarom je er naar luistert terwijl je net zo goed naar betere albums kunt luisteren van bands die in dit project worden gekopieerd. Dat is dan ook grotendeels het geval bij Dawn Of The Beast.
De nummers op deze cd zijn kort en voor fans van het rauwste van het rauwste: het project is niet opgenomen zoals Varg Vikernes het vroeger deed, helaas. In plaats daarvan heeft Dawn Of The Beast een wat meer gepolijste sound à la Behemoth of Gorgoroth. Dit heeft voordelen en nadelen: het grootste voordeel is dat je de instrumenten (zelfs de basgitaar) goed kunt horen, maar het grootste nadeel is dat er niks speciaals of origineels uit deze instrumenten te horen valt, dus als de sound lo-fi zou zijn, kon je in ieder geval nog doen alsof er allerlei geniale riffs uit je speakers kwamen.
Betekent dit allemaal dat het een slecht album is? Niet per se. Althans, de muzikanten weten hoe zij met hun instrumenten om moeten gaan en de vocalen zijn uitstekend. Maar aangezien de mannen begonnen met opnemen in 2008 en na elf jaar pas bedenken dat het goed genoeg is om uit te geven, is het jammer en verbazingwekkend dat het eindresultaat zo cliché en vrij safe is.
Tracklist:
1. Intro
2. Schlachtgesang
3. Fuck For Satan
4. Brotherslayer
5. Blutzoll
6. Battle Rage
7. Crush Gothic Faggot Scum
8. Black Light Storm
9. Satan Rises
10. Nuklearer Holocaust
11. Crucifucked
12. And Trollish Hordes Swarmed The Lands
13. Feuer Flammen Rauch Asche (bonustrack)
14. Hotel California (bonustrack)
Score: 59 / 100

Reviewer: Marco
Toegevoegd: 27 november 2019
Meer Beast Of Damnation: