Kaeos - Wolves For The Throat – Ravens For The Eyes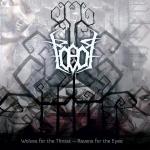 Ergens in 2007, in de Duitse stad Hamburg, werd Kaeos geboren. Kaeos is een band die bestaat uit een driekoppig gezelschap, dat tot nu toe weinig bandervaring heeft, maar ondanks dat een aardig stukje muziek afgeleverd heeft. Eind 2008 brachten deze Duitsers hun eerste, overigens gelimiteerde, demo uit: Wolves For The Throat – Ravens For The Eyes. Deze door de band zelf geproduceerde demo biedt achttien minuten aan langzame black metal, met enige doominvloeden.
Kaeos opent met het nummer I, wat in de eerste plaats een beetje doet denken aan een intro. Langzame black, met een rommelige productie (in dit geval vermoedelijk een product van het gebrek aan een professionele studio). Zanger T. gromt er een beetje op los zonder werkelijk een tekst in de mond te nemen en een industrieel aandoende sample maakt het af. Kortom, een opener die niet veel waarde toevoegt aan de demo, behalve dat hij de sfeer voor de rest van het werk zet.
In The Grinding Gears Of Time laat T. zijn zang wel horen. Langzaam, heel erg langzaam en rustig voortkabbelend, net als de muziek die hij begeleidt. Vocaal gezien doet de band hierdoor meer denken aan een doomband. Dit zou een prima insteek zijn, als de heren het goed uitgewerkt hadden, maar dat blijft achterwege. De muziek is op de gehele demo namelijk ontdaan van welke vorm van spanning dan ook. Spanning die ervoor moet zorgen dat je aandachtig blijft luisteren.
Af en toe hoor je echter wel een opleving en in Wolves For The Throat slaat de band even een heel andere toon aan, wat voor een luchtig sfeertje zorgt. Je krijgt op deze momenten meer het idee dat je naar een black metalband zit te luisteren dan voorheen, waardoor Wolves For The Throat – Ravens For The Eyes vanaf dit moment best een aardige luisterervaring biedt. De sfeer komt vanaf hier ook een stuk beter uit de verf; melancholisch en tegelijkertijd opbeurend. Meer positiefs volgt, als ook de zang aantrekt en beter naar voren komt en er iets meer afwisseling ten gehore gebracht wordt.
Al met al is Wolves For The Throat – Ravens For The Eyes aardig eerste probeersel, maar Kaeos is er nog lang niet. Met een inspiratieloze eerste helft en een degelijk vervolg, maak je niet veel mensen blij. Misschien iets voor later, als de band wat meer geoefend is.
Liefhebbers kunnen de demo overigens een luisterbeurt geven, door hem hier in zijn geheel te downloaden.
Tracklist:
1. I (mp3)
2. The Grinding Gears Of Time (mp3)
3. Wolves For The Throat (mp3)
4. Ravens For The Eyes (mp3)
Score: 60 / 100

Reviewer: Erik
Toegevoegd: 10 mei 2009
Meer Kaeos: