Lucky Striker 201 - Lucky Striker 201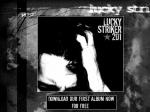 Het klinkt vreemd, maar het album waar deze review over gaat bestaat officieel niet. Nou ja, het is een e-album, een album wat niet op cd zal verschijnen, maar volledig gratis van de internet site te downloaden is. Waarom? Heel simpel omdat de mensen van Lucky Striker 201 vinden dat muziek gratis moet zijn! Dit betekent echter dat ze toch verlies zullen maken, tenzij ze genoeg terugverdienen van het geven van concerten. Als dit lukt zullen ze ook nog eens in staat zijn om een tweede album uit te brengen., klinkt redelijk toch?

Goed, zo'n sympathiek praatje moet natuurlijk wel ontaarden in een behoorlijk product wil men er nog enig profijt van hebben. De band speelt moderne metal met een hoop elektronische invloeden in het straatje van bands als Rammstein, Fear Factory en Nine Inch Nails vermengd met enkele doom-achtige gitaarlijnen à la My Dying Bride, die niet mis zou staan op de soundtrack van een film als Resident Evil of Blade. Naast brute gitaarriffs en schreeuwerige zang blijven er zodoende ook genoeg zweverige melodieën over om op weg te deinen of te dansen. De productie klinkt uitstekend en is ook absoluut niet minder dan de meeste moderne releases van bovengenoemde bands.

De songs zelf zijn over het algemeen erg goed en nodigen je zeker uit om op te bewegen. De vraag is of de ideologie achter de band nog tot succes zal leiden. Is het geen commerciële zelfmoord om een album gratis op internet te zetten in de hoop van de optredens te kunnen leven? Only time will tell, ik wens de heren in ieder geval met dit geslaagde product alle succes toe dat ze nodig zullen hebben. Mensen die bovengenoemde bands goed vinden zullen hier zeker mee uit de voeten kunnen.

Tracklist:
1. Things Are So Good
2. Burnburnburn
3. Ocean Theology
4. Dawn
5. Insane
6. K.
7. A Liquid-Blue Quest
8. Papersnake
9. The Werewolf Metaphore
10. Tokyo Vitriol
Score: 78 / 100

Reviewer: Lennert
Toegevoegd: 10 juli 2006