Iced Earth - Something Wicked This Way Comes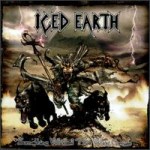 Something Wicked This Way Comes is het vijfde studio album van
Iced Earth
, en kwam uit in 1998 op Century Media Records. Het album is muzikaal gezien een combinatie van powermetal en thrash, waarbij ook enkele rustige momenten komen kijken. Het album is globaal gezien iets harder dan z'n voorganger,
The Dark Saga
, en bevat ook dit keer weer een verhaal in 3 delen, namelijk de
Something Wicked
trilogie.
Het album opent met het sterke Burning Times, een redelijk up-tempo nummer. Daarna volgt Melancholy (Holy Martyr), een nummer dat qua stijl identiek is aan I Died For You van The Dark Saga, namelijk een rustig couplet, dan een hard refrein, dan weer rustig, en weer hard als het bij het refrein komt. Dit klinkt best goed op zich, maar Iced Earth gebruikt het iets te vaak, want ook Watching Over Me en Blessed Are You volgen dezelfde stijl, waardoor het toch gaat vervelen.
Na het eerder genoemde Watching Over Me (wat een eerbetoon aan een vriend van bandleider Jon Schaffer is) volgen een aantal middelmatige nummers, waarbij vooral Stand Alone en Reaping Stone nogal simpel doen klinken. Het rustige Consequences is ver van slecht, maar mist toch net iets. Het instrumentale 1776 klinkt leuk, maar gaat bij meerdere keren luisteren toch wel vervelen. In Blessed Are You bedankt de band de fans voor alle support, maar het nummer is verder een 13-in-een-dozijn nummer voor Iced Earth.
Gelukkig maken de laatste drie nummers op het album het middelste stuk meer dan goed. Het eerste nummer in de Something Wicked trilogie is Prophecy, een nummer dat langzaam begint maar aan het eind toch goed doorbeukt. Daarna komt Birth Of The Wicked, wat in een eveneens stevig tempo doorgaat, en als afsluiter is het het schitterende The Coming Curse, wat echt het hoogtepunt van het album is, en waarbij zanger Matt Barlow goed laat horen waartoe hij in staat is.
Op heel het album speelt de band goed, en ook de productie is goed. Something Wicked This Way Comes is minder duister dan bijvoorbeeld Burnt Offerings, waardoor Matt Barlow's zang beter uit de verf komt. De Iron Maiden invloed is ook duidelijk te horen op het album, al speelt Iced Earth iets sneller en harder.
Tracklisting:
1. Burning Times
2. Melancholy (Holy Martyr)
3. Disciples of the Lie
4. Watching Over Me
5. Stand Alone
6. Consequences
7. My Own Savior
8. Reaping Stone
9. 1776
10. Blessed Are You
Something Wicked trilogie:
11. Prophecy
12. Birth of the Wicked
13. The Coming Curse
Score: 81 / 100

Reviewer: Tonnie
Toegevoegd: 17 april 2001
Koop dit album in
Meer Iced Earth:
Iced Earth - Something Wicked This Way Comes
Reactie van Anonymous op 12-05-2001 om 18:57u
Score: 80 / 100
Iced Earth laat met 'Something Wicked...' hun nieuwe, en verbeterde stijl horen; ze gaan nu juist niet de trash-richting op, maar de powermetal-richting op. Dat wilde Jon Schaffer al toen de band nog Purgatory heette. Op deze CD is overigens ook beter te horen dat Matthew meer gevoel in de nummers legt, wat anders was in de 'Burnt Offerings'-tijd. Mijn opinie is juist dat Iced Earth met dit album hun nieuwe stijl introduceert. Een prelude op 'Horror Show'?
Iced Earth - Something Wicked This Way Comes
Reactie van Een_Metalfan op 03-02-2002 om 07:13u
Score: 100 / 100
Niet helemaal met de recensie eens. Iced Earth klinkt namelijk voortreffelijk op dit album en verveelt geen een moment. Er staan inderdaad wat veel balads op, maar ze zijn zo vreselijk goed, dat het eigenlijk niets uitmaakt. Het album was mijn kennismaking met Iced Earth, een memorabele dag uit mijn leven. Een van de beste metal albums ooit.
Iced Earth - Something Wicked This Way Comes
Reactie van friendly_dem0n op 12-02-2003 om 19:56u
Score: 100 / 100
Dit was mijn derde Iced Earth cd, na Iced earth en Days Of Purgatory. Mijn eerste indruk was niet zo positief. Want ik verwachte opnieuw een cd vol met galloppig riffs. ze zijn er nog wel, maar dan minder. Wat ik wel positief vond is de zang. Matthew Barlow legt echt veel gevoel in de songs. Wat ze dan ook heel goed maakt. De laatste drie nummers kunnen gezien worden als 1 geheel. Ze worden dan samen ook de "Something Wicked Trilogy" getiteld. Prophecy, Birth of The Wicked & the Coming Curse. Echt het hoogtepunt van deze cd!!! Maar de andere nummers mogen zeker niet vergeten worden. Zoals de opener Burning Times.... iets heel krachtigs Melancholy.... een lied die voor weken in m'n hoofd bleef hangen. Disciples Of The Lie, die een beetje doet denken aan "Violate" Heel hoog tempo, goede teksten, en een keybord-passage in het midden die echt goed overkomt. (en dat uit de mond van iemand die het niet zo heeft voor keybord in metal) Watching Over Me... is wel een ballad, maar het is een stevige. De tekst is ook heel speciaal, dat maakt het lied ook nog eens mooier. Het gaat over de gitarist z'n beste vriend die omkwam bij een motor-ongeluk. Stand Alone... een steve ass-kicker, met prachtige boodschap in de tekst. Consequenses... met diet lied leren we Iced earth op een nieuwe manier kennen. Een overwegend accoustisch lied, met tekst en zang die wat afwijken van het gewone. Laat je niet afschrikken hierdoor, het is goed! Reaping Stone... een 'rustig' (traag tempo) nummer. 1776.... een instrumentaal nummer (vroeger ook wel Purgatory getiteld) Het deed me wat denken aan Transylvania van Iron Maiden. Terwijl het een iced earth song blijft en vast en zeker geen kloon van Iron maiden. Dit is het album wat Iced Earth wat bekender heeft gemaakt, en terecht. Het is een perfect metal album. Ideaal om als eerste aan te schaffen als je Iced Earth niet kent. Deze schijf behoort gewoon tot de metal liefhebber zijn collectie !!!
Iced Earth - Something Wicked This Way Comes
Reactie van JozzyJosbourne op 22-10-2003 om 21:29u
Score: 90 / 100
Ja, deze plaat is ook weer erg lekker. Het ligt in het verlengde van Dark Saga, zoals Night Of The Stormrider in het verlengde lag van Iced Earth. Alleen zijn de rustmomenten in deze schijf rustiger dan Dark Saga en de agressieve momenten agressiever. Mooie tegenstellingen dus. En wat mij betreft is er geen trilogy die aan deze Trilogy kan tippen. God, die pianosolo en dan dat laatste nummer. Adembenemend. The Coming Curse en Prophecy zijn dan ook mijn favorieten. O, en nog ff terugkomend op de eerste post van Anonymous, naar mening is IE altijd al powermetal geweest hoor, ik bedoel, slayer en sepultura, DAT is trash.
Iced Earth - Something Wicked This Way Comes
Reactie van Ronald op 06-05-2012 om 13:57u
Score: 95 / 100
Beestachtig goed album !! Laatste 3 nummers, 1 nummer eigenlijk, krijg ik elke keer weer kippenvel van, ongeevenaarde powermetal met geweldig gevoel en toch heerlijk ruig.