Ceremony Of Opposites - Death's Dominion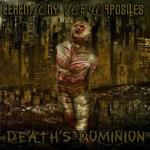 "Watch up to the sky to the clouds that are burning", zo luidt het dringende advies van Ceremony Of Opposites. Helaas is er van fikkende wolken even geen sprake, de wolken zijn vandaag de dag net volgezogen sponzen waar de Heer af en toe flink in knijpt. Ook leuk, daar niet van, tenzij je plu-loos én op straat bent, want een duik in het IJsselmeer houdt je droger. Wie deze wolken in de hens wil steken mag dus wel van zeer goeden huize komen.
Het Brabantse Ceremony Of Opposities waagt met het debuut Death's Dominion een poging. Voor deze melodeath-band is, na een demo en een promo, het echte werk eindelijk begonnen en heeft de band geheel zelfstandig een twaalf (stiekem dertien) nummers tellend album klaargestoomd.
Gaan de zwarte wolken nu in vlammen op? Nee, dat niet. Death's Dominion ontbeert de kracht om het vuur te ontvlammen. De cd mist agressie en kracht, de in mijn ogen twee belangrijkste elementen die deathmetal "deathmetal" maken.
De cd is niet slecht, zeker niet. Voor een zelfgemaakt exemplaar is Death's Dominion blij vlagen zelfs vrij goed. Maar het oor wil meer. Meer dan wat doorsnee melodieuze death (met een thrash-rand) met een mat geluid en nummers die pit missen en op den duur redelijk hetzelfde klinken.
Het gebrek aan variatie in de nummers en een flinke dosis geweld in de muziek zijn mijn voornaamste punten van kritiek. Daarmee gaat gepaard het feit dat ik vijftig minuten speeltijd ook wel erg lang vind voor een band als Ceremony Of Opposities. De nummers gaan zich herhalen en de aandacht vaart al snel een andere richting. In een aanloopfase naar het succes is "kort en krachtig" een veel betere benadering.
Zonder negatief te willen overkomen kan ik er helaas niet meer van maken dat, hoewel de bandleden ongetwijfeld hun stinkende best hebben gedaan, Death's Dominion niet boven de middenmoot weet uit te stijgen. Geen vervelende muziek, maar te onopvallend (behalve het vocale slot van Obscure!) om écht te knallen. De band heeft voor mijn gevoel niet echt een eigen aspect dat uitblinkt. Hoewel men in technisch opzicht prima spel levert is het eindresultaat een beetje een "grijs muisje" geworden. Het is geen slecht begin, maar in de toekomst zou ik meer afwisseling en vuurwerk willen horen. Alle remmen los en gaan met die banaan.
Tracklist:
1. Burning Skies
2. Death's Dominion
3. Bathe In Gore
4. Posttraumatic Disorder
5. Exoneration
6. Obscure
7. Wall Of Darkness
8. Deafening Silence
9. Freedom
10. False Believes
11. Inconvertible Changes
12. Soul Cemetary
13. Into Infinity (hidden track)
Score: 65 / 100

Reviewer: Lana
Toegevoegd: 19 juni 2007
Meer Ceremony Of Opposites:
Ceremony Of Opposites - Death's Dominion
Reactie van Sander op 25-09-2007 om 22:53u
Score: 100 / 100
Ceremony Of Opposites - Death's Dominion
Reactie van Een Metalfan op 06-02-2011 om 16:37u

Ceremony Of Opposites zijn hele goede vrienden van mij en ze spelen pas 6 jaar gitaar en zo voort het is een hele prestatie wat deze melodic death metallers neerzetten hoor asje pascal marcel en knakker keep it up my friends xxxxx and devil horns van Davey (kleine)