Meiche/For Ruin - Split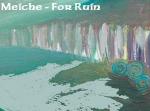 Na Hexxed is er alweer een ietwat vaag product uit Ierland in mijn cd-speler beland. Deze split-cd is door de twee goede vrienden John en Taranis in elkaar gebokst. In de band For Ruin zingt John, bespeelt hij ook alle instrumenten terwijl Taranis wat meebrult. Bij Meiche hanteert Taranis de bas en de gitaar en speelt hij leadzanger terwijl Taranis drumt, de muziek van toetspartijen voorziet en de sologitaarlijnen heeft ingespeeld. Waarom ze dit niet doen onder één dezelfde bandnaam? Omdat naar eigen zeggen de twee 'bands' een totaal andere entiteit zijn. Dat is sterk overdreven, hoewel er toch wat muzikale verschillen te bemerken zijn.
Meiche heeft het oude Darkthrone geluid gestuwd tot een toegankelijkere en melodieuzere versie. De drie aardige eigen deuntjes worden afgesloten met een getrouwe versie van de Celtic Frost klassieker 'Return To The Eve'. For Ruin is toch minder interessant door de melodieuze deathmetalrichting en de matige vocalen. De composities zijn niet echt interessant en het acht minuten durende instrumentale 'Treading' is slaapverwekkend. De split wordt afgesloten met een redelijke versie van het beste Hypocrisy nummer ooit.
For Ruin mag voor mij afgeschaft worden en de eeneiige tweeling J & T kan zich beter volledig richten op Meiche. Met dit project kunnen ze nog wel eens een goed cultschijfje neerpennen. Overigens is het vreselijk om te merken dat in twee recensies op het internet droog wordt verteld dat 'Return To The Eve' en 'Apocalypse' eigen composities zijn van deze Ieren. Sommige mensen kennen echt een klassiekers niet. Een cijfer ontbreekt, omdat dit te moeilijk is samen te vatten in een schoolscore.
Tracklist:
1. Meiche- Dioltas
2. Meiche- Sadistic Necrohell Torture
3. Meiche- Adversary
4. Meiche- Return to the Eve
5. For Ruin- Vertigo
6. For Ruin- End
7. For Ruin- Daemon
8. For Ruin- Treading
9. For Ruin- Apocalypse

Reviewer: Kristof
Toegevoegd: 6 oktober 2005
Meer Meiche/For Ruin: