Another Messiah - Dark Dreams, My Child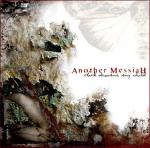 'Een band die niet voor één gat te vangen is, die een erg sterke, leuke en originele demo aflevert waarbij dynamiek het sleutelwoord is. Op naar de full cd'
schreef ik twee jaar geleden naar aanleiding van de demo 'Another Renaissance'. Niet zoals vele andere talentvolle bands die na een goede demo van de aardbodem lijken verdwenen te zijn, brengt Another Messiah met 'Dark Dreams, my Child' een uitstekende debuutplaat op de markt.
De vorm is zeer professioneel en aantrekkelijk te noemen (cd-boekje, productie en mix lag in handen van Joost van den Broek (ex-Sun Caged, After Forever) en de prijs van tien euro) maar uiteindelijk draait het uiteraard om de inhoud. Dit kwartet is door de jaren heen erg gegroeid en de nieuwe composities zitten erg puik in elkaar. Zelf noemen ze het post-doom maar eigenlijk is het gewoon atmosferische metal met invloeden uit de death, gothic en doomwereld. Het materiaal is ook erg afwisselend en dat ze uit Nederland komen bewijzen de invloeden van Orphanage (zanglijnen in onder andere 'She softly starts to cry') en enkele verdwaalde Gorefest ritmes. Muzikaal ontdek je geen fout en het gebruik van een Oboe (een soort van klarinet) is een gouden zet. De kers op de taart is dan ook nog eens het goede zangwerk van Robbie die zowel op gruntgebied alsook met zijn cleane zanglijnen weet te overtuigen.
'Dark Dreams, my Child' gaat wat mij betreft de boeken in als het beste Nederlandse debuut van 2005 en Another Messiah heeft zich genesteld in de subtop van de Nederlandse metalscène. Aanrader.
Tracklist:
1. These lonely eyes
2. And now I will
3. My God it's him
4. I never noticed
5. Sweet dreams
6. She softly starts to cry
7. Dead man walking
8. Left to die
9. The bee queen (part 1 en 2)
Score: 80 / 100

Reviewer: Kristof
Toegevoegd: 2 november 2005
Another Messiah - Dark Dreams, My Child
Reactie van Hoest! op 02-11-2005 om 22:37u
Score: 85 / 100
Coole plaat lijkt me, had er meer goeds over gelezen op andere metalsites en nummer op site klinkt goed! . Ik ben benieuwd naar het hele album.
Another Messiah - Dark Dreams, My Child
Reactie van Onheilsprofeet op 28-11-2005 om 00:34u

demo was super ff deze kope