Cycle Beating - The Age Of Depression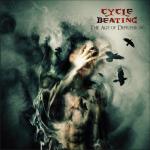 Het debuutalbum The Age Of Depression van Cycle Beating is al een tijdje uit en heeft zowel zeer positieve als zeer negatieve reacties opgeleverd. Deze Duitse band werd in 2012 opgericht en is ontstaan uit een jamproject van drummer Niklas Maier en gitarist/ zanger Robert Wagner. Samen met bassist Lars Hammel werden de ideeën verder uitgewerkt en na een paar concerten kwam gitarist Kim Karcher de band versterken.
Muzikaal is het een mengelmoes van stijlen. De basis wordt gevormd door een mix van thrashmetal en groove metal, met een duidelijk herkenbaar metalcore slagwerk. De leadgitaar doet een beetje denken aan de stijl van grootmeester Yngwie Malmsteen. In tegenstelling tot de melodielijnen, worden de teksten met thema's als haat, woede en teleurstelling op een opvallend monotone wijze gebruld door Robert. Hoewel dat me normaal zou storen, klinkt het bij deze band eigenlijk wel prettig.
De tekst 'This will be my last day…', waarmee Intro eindigt, geeft direct de duistere sfeer aan voor het album. De titeltrack bewijst dat je met zware, eenvoudige riffs, wat pakkende melodielijnen en hier en daar een tempowisseling, toch best een aardig nummer kunt neerzetten. Probleem is alleen dat dit ook geldt voor de daarop volgende tracks. Slechts een enkele keer wordt je verrast, zoals bij een opvallende breakdown aan het begin van de track 254. De sound is over het algemeen prima, al zijn de overdadige blastbeats in de track Mass Corruption een beetje storend.
The Age Of Depression is al met al best een aardig album en bevat een aantal goede muzikale ideeën. Omdat het een debuutalbum betreft, is het naar mijn mening nog volledig onduidelijk hoe deze band zich de komende jaren zal ontwikkelen. Dat is iets waarover de heren van Cycle Beating nog eens heel goed moeten nadenken.
Tracklist:
1. Intro
2. The Age Of Depression
3. Burning Down The Bridge
4. 254
5. No Regrets
6. Still Sober
7. The Wrong Path
8. Mass Corruption
9. Who Do You Think You Are
10. In My Darkest Dreams
Score: 74 / 100

Reviewer: Marc
Toegevoegd: 7 januari 2015
Meer Cycle Beating: