Chronic Noise - Hard Metal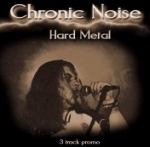 Deze Nederlandse formatie brengt een nieuwe promo uit. De vorm is al erg in orde; een prachtig gouden kartonnen doosje (lijkt op een goudstaaf) met daarin het normale cd doosje. Drie ouderwetse heavy metal songs die toch modern klinken! De productie valt heel erg op, want die is voor een promo wel erg vet! De drie nummers mogen er ook wezen! Het eerste nummer 'In search for the thoughts' klinkt erg vet en catchy, en het nummer bevat ook een wel erg vette solo! Het tweede nummer is wat korter en eenvoudiger maar zal live best wel knallen! Het afsluitende nummer 'Decline in mind' klinkt dan meer als het eerste nummer (qua structuur).
Kortom ook de inhoud is in orde! Na de uitstekende Conquestador demo is er nu een andere top heavymetal promo uit. Alhoewel deze band iets minder 80's klinkt en iets moderner dan Conquestador. Maar de drie songs smaken zeker naar meer. Ik wil een full cd! Of op zijn minst een mini cd! Ik wil ze ook best eens live zien want ze zouden op optredens enkele metalklassiekers coveren. Check de site voor mp3 samples en bestel dit cd'tje dan maar direct! Trouwens ook een topzanger die volgens mij nog beter kan. Dus nu surfen naar die site! Nu!
Tracklist:
1. In search of thoughts
2. Long John
3. Decline in mind
Score: 75 / 100

Reviewer: Kristof
Toegevoegd: 3 juli 2003
Meer Chronic Noise: