Disconsolate - Crimson Pleasure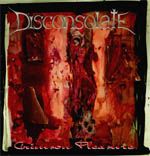 Deze Nederlandse death metalband ontstond in 1998 uit de mij verder onbekende band Embrace the Darkness. Onder de naam Disconsolate verscheen eerder de promo
Dreaming, Longing, Dying
en een live-demo getiteld
Live @ Your Own Risk
. Deze MCD is mijn eerste kennismaking met Disconsolate en eerlijk gezegd word ik niet warm of koud van het gebodene.
Wat hebben de heren te bieden op Crimson Pleasure? Vijf redelijk geproduceerde, logge oldschool death metalnummers, die echter mijns inziens nog simpelweg té onopvallend zijn om echt ergens potten te doen breken. Ik kan niet zeggen dat de nummers zwak in elkaar zitten, maar anno 2004 is dit toch echt te weinig om af te leveren. Opener Promised Land klinkt nog best in orde, evenals het meest professionele nummer P.P.O. (dat enkele behoorlijke riffs bevat), maar door het vrij eentonige drumwerk en de standaardgrunts weet dit schijfje de aandacht niet vast te houden.
Natuurlijk moet hier wel bij vermeld worden dat we hier met een in eigen beheer verschenen MCD te doen hebben. Als eerste stap op weg naar een mogelijke labeldeal heeft Crimson Pleasure dan ook zeker wat aardige momenten. Jammer alleen dat de band mede door het drumwerk en de wat matte productie nog niet zo uit de speakers komt knallen als andere Nederlandse death metalbands (denk aan bijvoorbeeld Severe Torture of Brutus). Wellicht dat Disconsolate wat dat betreft live een sterkere indruk weet te maken. Genoeg ruimte dus nog voor verbetering, maar als eerste MCD ook weer geen rampzalig geval. Iets meer dan een kwartier redelijke tot aardige death metal: of dat genoeg is om dit schijfje aan te schaffen, is iets dat iedere death metalfan voor zichzelf moet uitmaken.
Tracklist:

1.Promised Land
2.No Gleam of Hope
3.Insignificant
4.P.P.O.
5.Crimson Pleasure

Score: 60 / 100

Reviewer: Rik
Toegevoegd: 28 augustus 2004
Meer Disconsolate: